Launch of UCI Nirvana Gran Fondo World Series Antalya 2022
Meeting Held at Nirvana Cosmopolitan
The launch ceremony of the UCI Nirvana Gran Fondo World Series Antalya International Cycling Competition, organized by the International Cycling Union – UCI - International Cycling Union and organized by the destination partner Turkey Tourism Promotion and Development Agency (TGA) on Thursday, November 3, at the Nirvana Cosmopolitan Hotel. carried out.
Antalya Governor Ersin Yazıcı, Antalya Deputy Governor Yalçın Sezgin, Antalya
Youth and Sports Provincial Director Yavuz Gürhan, Deputy Secretary General of Antalya Metropolitan Municipality
Mustafa Gürbüz, ATSO Board Member Murat Totoş, POYD Board Chairman
Ülkay Atmaca, President of Antalya Journalists Association İdris Taş, Deputy President of Antalyaspor
Sezgin Özer talked about the relationship between BAKSIFED President Abdullah Erdoğan and the organization sponsors.
Fraport TAV General Manager Deniz Varol, Corendon Airlines Corporate Communications and Marketing
Director Tuğba Özkan Güner, AG Seed Chairman of the Board Burak Gonen, Kilit Group
Board Member Tuncay Kilit and Nirvana Hotels CEO Korhan Alşan, as well as numerous
NGO representatives, members of the press and guests from the political and sports community attended.
Hundreds of cyclists from many different countries of the world will participate in the 2022 UCI Nirvana Gran Fondo World Series Antalya International Cycling Organization, which will be held at the Nirvana Cosmopolitan Hotel between 17-20 November.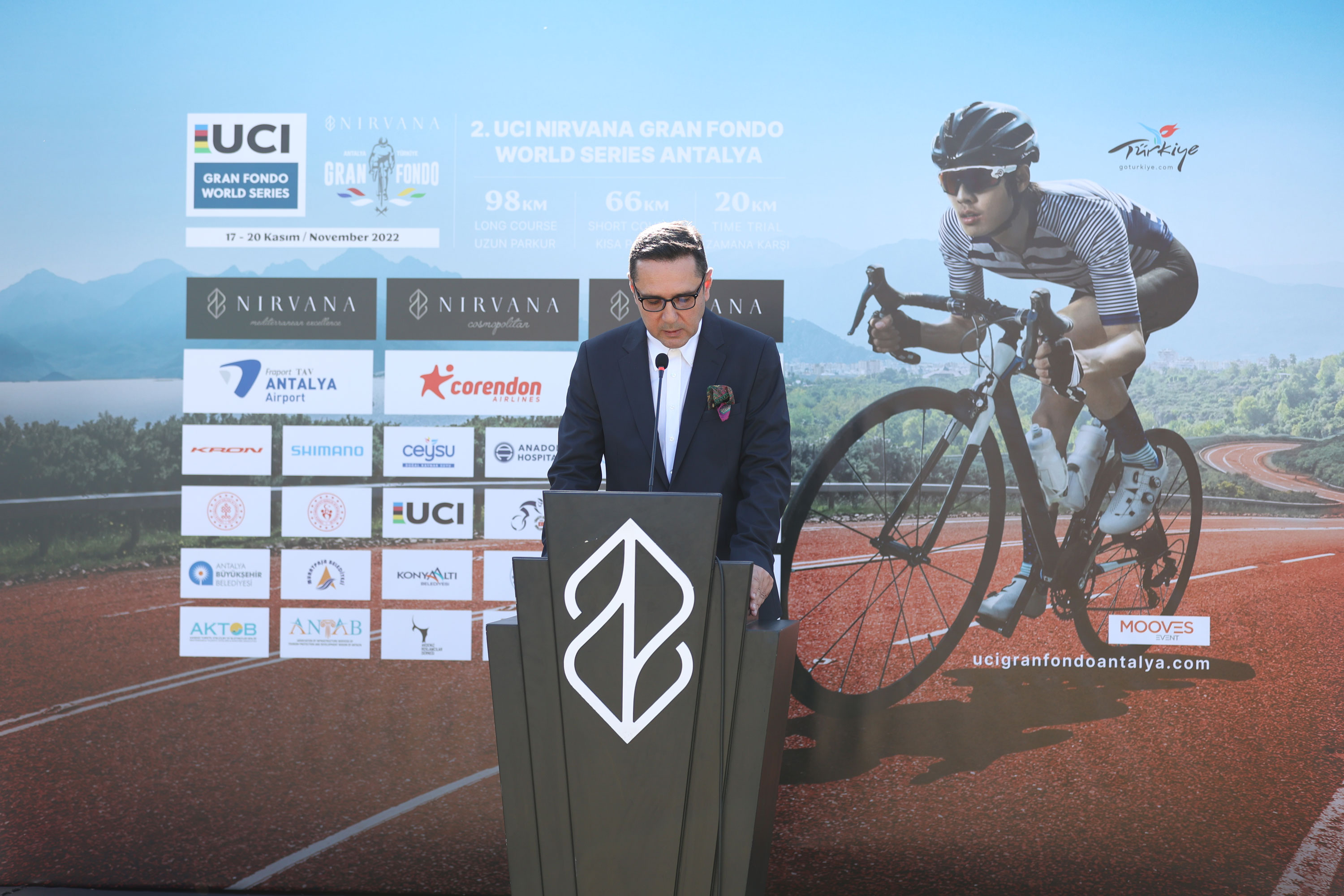 Nirvana Hotels CEO Korhan Alşan, who started his speech by saying that they are happy to host such an important international competition for the second time as the Nirvana Cosmopolitan family, started his speech by saying, "International Cycling Union, the most important authority in the world on bicycles, in the launch ceremony for the promotion of the organization. - There are only a few days left for the Nirvana Gran Fonda Cycling Race, the second of which will be held within the scope of the UCI program. We aim to increase the number of participants, which was around 500 last year, to 1000 this year. Particularly, the presence of foreign participants is of great importance for the promotion of our country. As Kilit Group and Nirvana Hotels, we invest in every branch of sports. We think that the development of sportive activities and the investments to be made in this regard are very important for the future of our country. As Nirvana Hotels, we were entitled to receive our "Bicycle Friendly Facility Certificate", which we applied for, given by the Ministry of Culture and Tourism in our facilities, with our Nirvana Mediterranean Excellence hotel. Infrastructures of our other Nirvana hotels are also being prepared. At the same time, cycling culture in our facilities
We branded it and our brand Cosmo Bike was born. The interest in our country is increasing with such organizations, because I must underline that if we consider that the economy created by the bicycle in the European Continent is 40 billion Euros, we realize how much greater potential we actually have. Organizations like this require collaboration. Especially to our esteemed Governor Ersin Yazıcı, that cycling has an important role in the development of Antalya and tourism
I would like to express my gratitude on behalf of Antalya tourism professionals for their contributions. Thank you to all the guests for being here with us today."
Stating that Antalya is a very important destination for bicycle tourism, Fraport TAV Antalya General Manager Deniz Varol said, "Bicycle tourism has gained a serious momentum especially in recent years. In particular, the Ministry of Tourism and Türkiye Tourism Promotion and Development With the contribution of the agency, outdoor sports have now become an important stakeholder in tourism. When we compare ourselves as a destination, we see that it is one step ahead of us, especially in terms of bicycles, even though we are in an equal position with Spain in some points. On the other hand, Antalya has many advantageous points compared to other Mediterranean Regions. I think that Kilit Group deserves a heartfelt thank you for the support it has given to sports activities in Antalya recently. As Fraport TAV Antalya Airport, we are very excited because we will contribute to this competition with nearly 60 cyclist athletes. I'll be there on the short track with my bike. For the growth, development and increase of such important organizations
The private sector needs support. At the end of the day, we, as the business world, are a big family meeting to promote Antalya, we are all here to promote this destination. I would like to thank Mr. Governor and all NGOs individually. The existence of the private sector does not mean much without their support. Therefore, I would like to thank everyone who contributed to being here as a big family, supporting these organizations and ensuring their growth and development."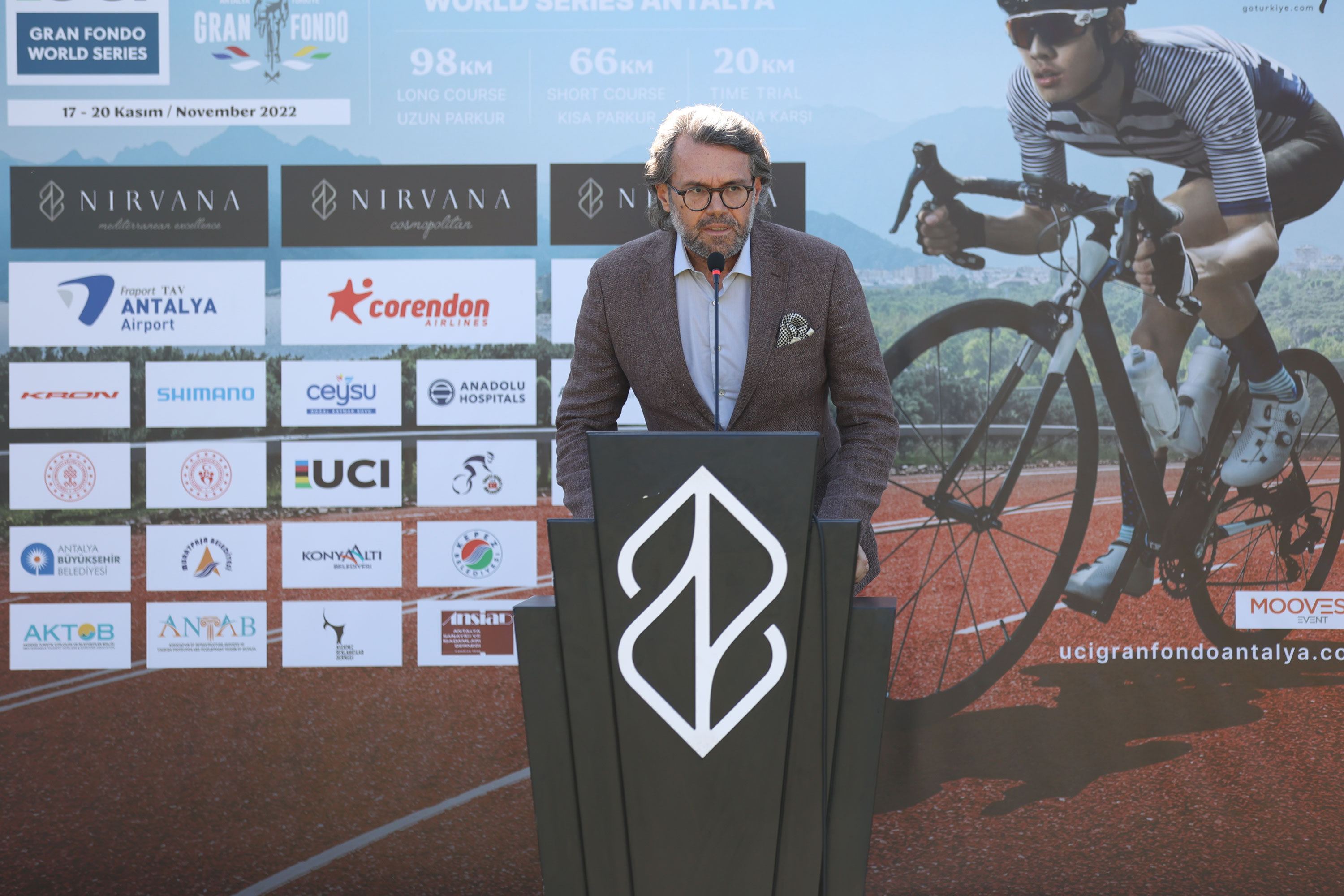 Burak Gonen, Chairman of the Board of Directors of AG Tohum, said, "It has reached a very important point in Antalya, especially in terms of bicycles. Recently, many valuable tracks have been formed. It especially added great value to the promotion and popularity of Gran Fondo Antalya. We especially thank the Kilit Group and Mr. Tuncay for their support in this valuable competition. Finally, I would like to thank our Governor, Mr. With their permission, we carried out our 180 km, 29 October Republic ride."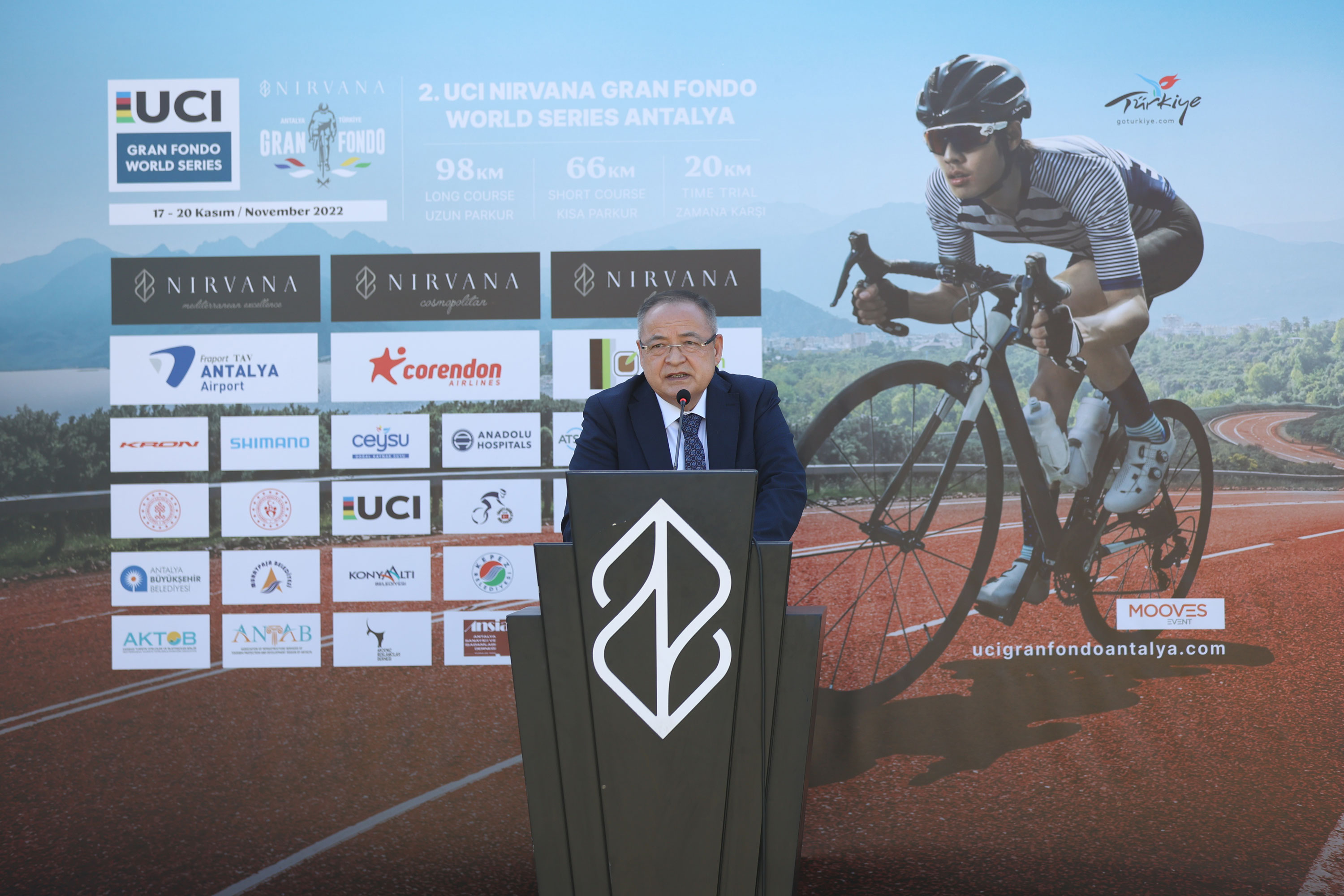 Antalya Metropolitan Municipality Deputy Secretary General Mustafa Gürbüz, who started his speech by expressing his love and respect on behalf of Antalya Metropolitan Municipality Mayor Muhittin Insect and himself, said, "Antalya is the capital of culture and tourism that welcomes millions of visitors every year with its rich historical texture, sea, nature, climate, culture and art activities. Antalya, which has hosted many civilizations for centuries, has become an indispensable destination for domestic and foreign sports lovers, as the climate of Antalya contains all the conditions for sports tourism. Antalya has always benefited from the unifying power of sports and will continue to benefit from it. We are working as a municipality to increase the number of sports events to be held in the city. The message we will give to the whole world with the UCI Gran Fondo Antalya Cycling Race is that an Antalya, which has the power to host all national and international sports organizations, is waiting with impatience and enthusiasm to host its sports passions. I hope that all the participants who contributed to the organization this year will leave our city with good memories, without forgetting the words of Gazi Mustafa Kemal Atatürk, "There is no doubt that Antalya is the most beautiful city in the world". I also wish success to our athletes once again," he said.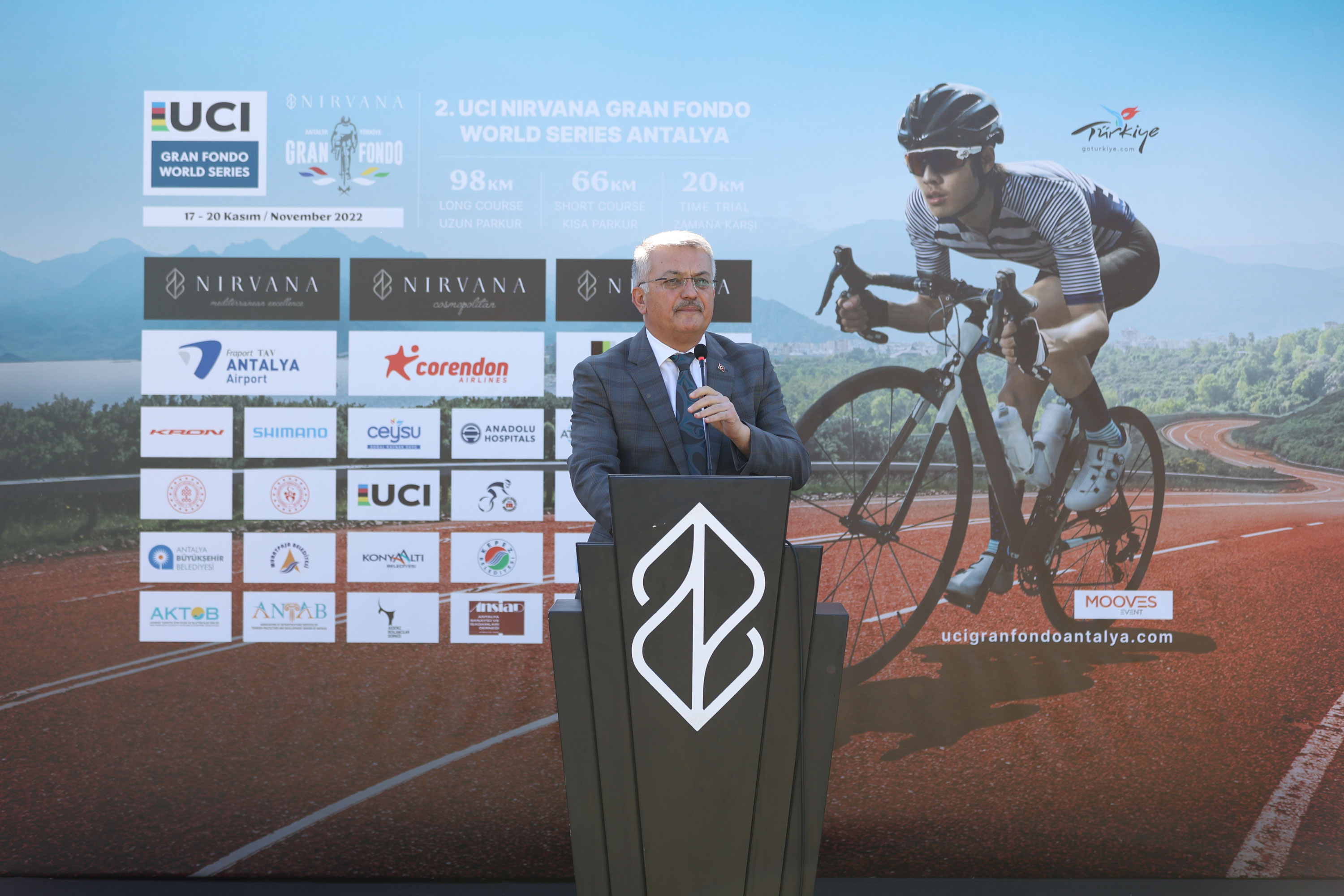 Antalya Governor Ersin Yazıcı, who started his speech by thanking the Kilit Group and all the supporters who made this organization perfect last year, said, "We believe that this excellent organization last year will be held in unity and solidarity with the same quality this year. As the Governor of Antalya, I guarantee that the Youth Sports, Police, Gendarmerie and other institutions and organizations will carry out all their duties in this organization, as they did last year, in a perfect manner in coordination. Of course, we believe that the private sector, especially Kilit Group, and all our companies and institutions that provide support will do this in the best way. Sports tourism is important for Antalya Health tourism is important for Antalya. You can't do sports tourism in another country with this beauty in this season. Antalya is a city that offers the world's best quality and highest level of service in terms of tourism. Therefore, we want to have plenty of sports activities and sports organizations in this city, together with congress tourism, in the season from December to April in November. Cycling is one of them. I hope that from now on, we will organize the same bicycle organization we have organized around the world in different branches in this city. We will increase our occupancy in winter months. As a city that reached 12 million 767 thousand guests as of yesterday, I hope we will pass 2019, which is our peak year. Our goal is to provide a 12-month tourism season. Sports tourism is one of the sine qua non of this. Once again, he would like to thank everyone who organized this organization, worked hard, and created it.